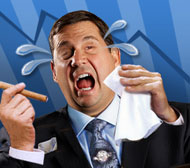 New York is running out of luxury condos....
http://www.cnbc.com/id/101308576
The records keep piling up for Manhattan real estate.

The fourth quarter saw a string of records broken—from number of deals and average sale prices to dwindling inventory—as the rich from around the world scoop up luxury apartments as a store of wealth.

The average sales price in Manhattan rose 5.3 percent to $1,538,203 in the fourth quarter compared to a year ago. That marked the highest-ever price for a fourth quarter. The median sales price for condos is the highest-ever tracked, hitting $1.3 million.

And the inventory of apartments for sale has shrunk to its lowest level in recent memory, with a little over 4,000 apartments for sale.

More at the above link.


Yeah, let's get rid of rent control and rent stabilization, so the rich can find more space to live in--or play with.